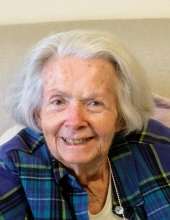 Obituary for Nancy Burke Teass James
Nancy Burke Teass James, formerly of Sanibel, Florida, and West Hartford, Connecticut, departed this life November 18, 2019.  Nancy was born on December 10, 1931 in Manhattan, New York, to Horace Argyle Teass and Lettie Louise Whitt Teass. She grew up in Jackson Heights and Bronxville NY, and was a graduate of Bronxville High School Class of 1950.  She graduated from Wellesley College in 1954 with a BA in Art History, and received an MAT from the Teacher's College of Columbia University.


After graduation, Nancy worked as an editorial assistant for several magazines, most notably the American Heritage publication Horizon: A Magazine of the Arts. In 1958, she married Donald Wiles James, Jr.,a  life insurance executive, and they moved to New Orleans, Louisiana where she worked in an art gallery prior to the birth of their son.  Shortly thereafter, the family spent about a year in Puerto Rico and then moved to West Hartford, Connecticut, in 1962.


A life-long appreciator of art and craftsmanship, Nancy became an antique and silver collector and dealer. Nothing made her happier than finding a hidden gem at the annual Brimfield Antique Show or winning a treasure at LaSalle's Auction House.  She was a volunteer in the West Hartford public schools, and a member of the Red Oak Hill Swim and Tennis Club. In 1978, she became the chief administrator for DW James Consulting Group and DW James Associates, jobs she held until retirement.


In 1980, Nancy and Don discovered their beloved Sanibel Island while on a business trip.  They swore to return and either buy property or never go back. Her passion for real estate lead them to own several properties on the island over the course of the next 30 years, including their East-end home.  She enjoyed collecting shells, gardening, and especially cultivating orchids.  


When Don's ill health led to moving to the Shell Point Retirement Community, she found many new friends in her neighbors, and fellow enthusiasts at the Bead Club, the Genealogy Club, and the Ho Ho Ho Club who helped her through the tough times of Don's passing and her own declining health.  At the end, she was able to spend more time with her daughter and grandchildren in Corvallis, Oregon.


An avid genealogist and amateur historian, was a member of the Suffolk County (New York) Historical Society, the New England Historic Genealogy Society, the Library of Virginia, the Friends of the Archives of Virginia, the Anne Hutchinson Chapter of the Daughters of the American Revolution, and the Tazewell County Historical Society, as well as a supporter of the Friends of Poplar Forest and the Friends of New London (Virginia). She enjoyed family reunions, and traveling to the places of her ancestors in Virginia, England, and Scotland.


Nancy is survived by her son Stuart Woodward James of Afton, VA and daughter Payton Leigh James-Amberg of Corvallis, OR, two granddaughters Katherine Anne James and Maren Elizabeth Amberg, and one grandson James Christensen Amberg.  She is also survived by beloved sisters-in-law Ann Woodward James and Mari Margaret McLean of Pataskala OH, daughter-in-law Karen Sue Simroth James, son-in-law Sean Michael Amberg, and several nieces and nephews. She will be dearly missed by her best friend of 60 years, Carey Overton Randall of Fort Myers, FL. 


A celebration of life is planned for a later date in Virginia.