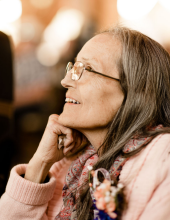 Obituary for Nancy Lynne Taylor
Nancy Lynne Taylor was born September 13, 1951, in Lebanon, Oregon. She was the youngest of four children born to Robert and Kathrine Jean (Arlandson) Middelburg. Nancy grew up in Albany and at the age of 16, married her high school sweetheart, Ken Dowling. The couple had a daughter together, but their young marriage was cut short when Ken was tragically killed in a car crash at the age of 19. 

Eventually Nancy began dating one of her other high school classmates, Eddie Taylor, that was a friend of her and Ken's. The two were married in 1980 and raised five children together. They lived in several different cities around the Willamette Valley over the years. Eddie and Nancy both worked for Philip's Industries in Stayton until they both quit in 2000 to drive long-haul truck together. 

Nancy loved dogs and horses and they always lived on acreage so that she could have her horses with her. She bred horses and loved to ride, and riding on the beach was especially dear to her.  But her greatest love was her family and they were all very close. They enjoyed getting together often for BBQs and gatherings. Nancy was always supportive and involved with her kids, grandkids, and great-grandkids, and had a very personal, close, and individual relationship with each and every one. She had a good spirit, a beautiful soul, an amazing heart, and was extremely loving and forgiving. Nancy lived by the golden rule, always treating others the way she would want to be treated. She also had a great sense of humor and was always cracking jokes. She accepted her children-in-law and grand-children-in-law as her own and loved them deeply as well. Nancy was a wonderful mother, wife, daughter, sister, cousin, and friend to many. 

Nancy was preceded in death by her parents and her first husband Ken Dowling. She was deeply loved and will be profoundly missed by the family that she leaves behind including her husband Eddie Taylor; children Tamara Johnson, Kari (Dave) Morton, Stephanie Taylor, Danielle (Jason) Shepherd, and Matthew (Amanda) Taylor; grandchildren Jadynne Johnson, Alexis (Kyle) Skelton, Ash-Leigh Taylor, Kyleigh Taylor, Devon Hanni, Kathryn Hanni, Brooklynn Hanni, Keirstyn Farrer, Zoee (Garrett) Becker, Airakah Vela, Kyana Aston, Justize Taylor, Avary Taylor, and Julian Taylor; great-grandchildren Anthony, Ayden, Jayce, Bentley, Jemma, and Odin; 2 great-grandchildren on the way and 1 great-great-grandchild on the way; siblings Robert "Bob" (Carol) Middelburg, Judy (Bruce) Peterson, and Patricia Middelburg; and bonus son Richard Hanni. 

A celebration of life is pending. 

In lieu of flowers, please make donations in Nancy's name to Samaritan Evergreen Hospice or a liver cancer organization of your choice.