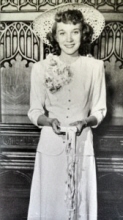 Obituary for OLGA JEAN KEYS
December 12, 1929 July 8, 2014

Olga Jean Keys, daughter of Lewis and Gladys Graham, passed away peacefully on July 8th 2014 surrounded by family. She is survived by her husband John "Jack" Keys, her son Mike Keys and daughters Vicki Tournay, April Kelley and Amy White. Jean is further survived by her eleven grandchildren and nine great grandchildren. Jean was born on December 12th, 1929 in La Junta, Colorado eventually moving to Oregon where she filled her days with writing, painting, sewing and loving her family.

Mom was a hot mess, a renaissance woman, with humbling artistic talents. She treated everyone with a charming smile, even though she was shy. She was a family counselor, a friend, a confidante, and always ready to fill the moment with laughter; in short an inspiration to all. Mom never met a piece of chocolate she didn't like and firmly believed that it was a miraculous cure for everything. Her artistic prowess had no bounds. She loved expressing herself through various art forms such as acting, singing, playing the piano, writing, poetry and painting. There wasn't a canvas Mom couldn't cover with paint; whether a wall, a door, furniture, her grandkids, or a ladder. Most often found in her hair or coffee mug. She enjoyed making outfits for her grandchildren and was ever the consummate costume maker. Every year on Halloween, she loved to dress up and greet everyone at her door with her best witch's cackle.

With a wicked sense of humor, knowledge, and tears supported her children as they raised her perfect grandchildren. Attending every birth of the precious babes. Plotting ways to spoil and serve them chocolate. "I wish you good health, I wish you much wealth, remember my birthday is December the twelfth."

Mom and Dad celebrated 66 years of marriage on June 26th, 2014. Dad first laid eyes on Mom when she walked up a set of stairs, long blonde hair swinging with the sway of her hips, into an ROTC dance. He has always said that from the moment he set eyes on her, it was love. Dad jokes that he took her home that night and kept her forever. Turns out, Dad had to keep her because Mom went home that night and told her parents that she had met the man she was going to marry.

In 1973, Mom was lovingly, officially adopted by her step-father James Graham. Mom never figured out a way to make this a "second" birthday celebration but she did pull out the can of Hershey's chocolate and took a swig.

Even though the last 10 years Mom's talents have been dancing around inside her head, her family has kept her legacy of love, compassion, laughter and selflessness going strong into future generations.

We would like to thank Dr. Gabe and Silver Gardens Marquis Care for their compassionate care over the years.

A chocolate service of Celebration for Jean will be held on Sunday, July 13, 2014 at 2:00 p.m. Silverton Senior Center 115 Fairview Street, Silverton, Oregon   Please make any donations to the Silverton Arts Association.

Arrangements entrusted to Weddle Funeral Services Stayton, OR.