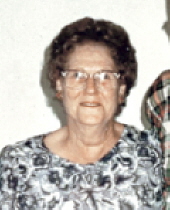 Obituary for Oleta Beatrice Coleman
Oleta Beatrice Coleman

April 21, 1923 October 27, 2008
Turner, Oregon

Oleta was born to Rueban Bruce Milligan and Hattie Ann (Ivey) Milligan. She was preceded in death by her husband, Thomas Ray Coleman. Oleta enjoyed watching TV (CNN), garage sales, loved her dogs and cats, visiting with family and friends, and reminiscing about the past. She had a great sense of humor. She was a loyal wife and mother. She is survived by four children; sons, Sonny and wife Nancy, Bruce and wife Jonni, and Jerry and wife Janice; daughter, Pat of Lapine; 7 grandchildren; 17 great-grandchildren; and sister, Billi Jackson of Stayton. Funeral services will be at 1 p.m. on Friday, October 31 at Weddle Funeral Service, Stayton.

Arrangements entrusted to Weddle Funeral Services Stayton, Oregon.