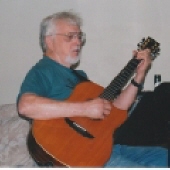 Obituary for Oregon Resident Aumsville
Aumsville, Oregon Resident

Guy Weston Capwell, 82, of Aumsville, Oregon, stepped into Heaven on February 19 2013. He was born in Hartford, Connecticut on December 9, 1930.

Guy married his high school sweetheart, Dawn Arlene Kisselburg, on Thanksgiving Day, 1949. They originally lived in Catskill, New York, where they were raising their first 4 children. They moved to Aumsville, Oregon in 1964, where they added to their family 3 more children.   Guy retired as a journeyman sheet metal worker in the Salem area. He had many talents and hobbies. He loved fly fishing and fly tying. He loved nature, camping, and hunting. He was very artistic and enjoyed drawing, painting, and designing and building things. He was a marksman. He was a superb guitarist and singer and used his talent in that area to worship the Lord in his home church for many years. He enjoyed song writing for the Lord, and designed and built guitars for worship leaders under the name of Spirit River Guitars.   He is survived by his wife of 63 years, and six of his children: Gary Capwell, Chris Capwell, Jay Capwell, Kim Boyd, Guy V. Capwell, and Lyssa Patterson, all living in Oregon. He has several grandchildren and great grandchildren in the Salem and Lebanon areas. He was preceded in death by his daughter, Lynn Capwell.

A Musical Celebration of Life is scheduled for Saturday, April 13th, at 1:00 p.m. at Aumsville Mountain View Church.

Arrangements entrusted to Weddle Funeral Services Stayton, OR.