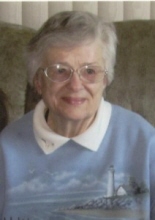 Obituary for PATRICIA MAY BEESLEY
October 9, 1928 January 11, 2013

Patricia was born in Portland Oregon to Walter and Catherine Kerry. She graduated from Gates High School in 1947. After retiring from Cascade Employers Association in 1992, Patricia did extensive geneology research, traveled the US researching, and took many road trips cross country including Oregon to New York. She was a member of the Salem Keizer Senior Center. Patricia is survived by her children; Mike Jensen, Ron Jensen, and Susan Sweeney sister; Betty Kelly Orr, grandchildren; Micah Jensen, Kari Meier, and Rob Stinson, great-grandchildren; Weston Syverson, Lane and Calee Stinson, and Cassidy Meier. She was preceded in death by; her parents Catherine (Hollis) Turnidge and Walter (Iris) Kerry, sister; Carolyn Brejcha. Graveside service will be January 14, 2013 at 1:00 P.M. at Fairview Cemetery in Gates.  Arrangements entrusted to Weddle Funeral Services. Online condolences at www.Weddle-Funeral.com. Contributions to Union Gospel Mission and Salem Keizer Senior Center.

Arrangements entrusted to Weddle Funeral Services Stayton, OR.