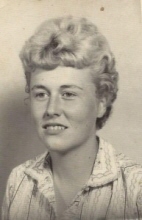 Obituary for PATRICIA PAT J. CHAVEZ
January 12, 1941 – July 5, 2014

Pat was born in Salem, Oregon to Joseph and Violet Johnson. She grew up in Stayton. She worked for Fairview Training Center for 30 years and then went on to manage the Food Services for the State Hospital.   She loved to cook and was an avid reader of History books and westerns. Hers was the home that kids and neighbors were drawn to by the smell of baking breads and cookies. She was preceded in death by her sister, Phyllis Dodson. She will be missed by her children; Tami (Dallas) Davis, Patti Amechi, Kathy Liu, Tony Henderson, Jose Chavez, her brothers, Jesse, Ray and Robert Johnson and her 13 grandchildren, and many great grandchildren. The family will celebrate her life privately and remember her always.   Arrangements are entrusted to Weddle Funeral Services.