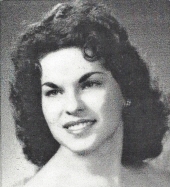 Obituary for PEGGY A CAMPBELL
November 5, 1939 – May 15, 2013

Beloved wife, mother, grandmother, great-grandmother, sister, aunt, and friend to many, ever faithful in her love of God, she was called home to Heaven. She had a particular passion for gardening, photography, drawing, painting, crafts and cooking. Although her body was ravaged by the effects of M.S. for many years, she never complained and had a smile for everyone. "Why me?" was never a part of her vocabulary and she did not let anything slow her down or lessen her involvement in family and friends' life activities. She is now free from her wheelchair and walking with our Lord. She was an inspiration and strength to all who knew her. She was born in Elbert, West Virginia to Britton and Eva Day.

She was preceded in death by her parents, brother James, and sisters Betty and Brenda.

She is survived by: the love of her life, husband of 53 years, Carlton Campbell of Turner; sons; Robert (Amber) Campbell of Ontario, Alan (Robin) Campbell of Albany, daughters, Anita (Mike) Deutschman of Albany, and Eva Campbell of Turner; grandchildren; Craig, Derick, Theresa, and Cayman Campbell, Makenzie and  Haylee Michael, Tanner and Chase Gardner, great-grandchildren; Katelyn and Koby Wellman , Sypher Campbell, brothers; Daniel (Joann) Day of Elbert, West Virginia, George (Faye) Day of Whitell, Tennessee, Joe (Glenna) Day of Princeton, West Virginia, Mack (Juni) Day of Gambrills, Maryland; sisters; Pearlie McClendon of Scottsboro, Alabama, Penny Hornick of Westminster, California, Margie (Harold) Jones of Forest, Virginia, LaRue (Daryl) Smith of Huntington Beach, California; as well as many numerous nieces and nephews. She loved and was loved by all who survive her.

Celebration of life will be held Wednesday, May 22 at 6:30 P.M. at Jefferson Baptist Church in Jefferson, Oregon.

Arrangements entrusted to Weddle Funeral Services Stayton, OR.