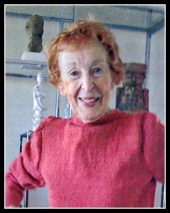 Obituary for PEGGY WEST
PEGGY   WEST

February 17, 1918 – May 20, 2012
Sublimity, Oregon

 Peggy West  was born in Kilkcaldy, Scotland on the 17th of February, 1918.  She passed away on May 20th at the age of 94.  The daughter of Herbert and M.S. West.  Her mother died in childbirth and her father died in World War I.  She was raised in London, England by her grandparents and her aunt.  She had worked as a Customer Service Representative for Shell Petroleum in London before sailing to America in November of 1957.  She then worked as a Customer Service Representative in the credit department for Portland General Electric from 1958 until she retired in 1985.  Peggy worked part time to keep busy at the Portland Tower Apartments from 1989 until she retired in 2005.  She had joined the Multnomah Athletic Club in 1995 and spent many hours exercising and socializing at the club.  Being a member of the club was a source of pride with Peggy and she considered it an honor.  She was very active in the Portland Theatre community and taught posture and etiquette.  Her acting career included a part in the movie "Homeward Bound", video education announcements and training films, radio commercials, voice overs and photo commercials.

Graveside service will be held on Sat. June 9th at 11:00 am at the Damascus Cemetery, Damascus, Oregon.

Arrangements entrusted to Weddle Funeral Services Stayton, OR.