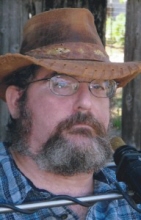 Obituary for Paul O. Walls
Paul Owen Walls
May 24, 1966 November 16, 2015
Vancouver, Washington

Paul was born in Stayton and lived there for most of his life, except for 15 years when he owned a home in Sacramento, CA, and the last two years in Vancouver, WA. He was preceded in death by his father, Ira Glenn Walls Sr. and mother, Delores Lorraine Crane-Walls. He is survived by his lifetime sweetheart, Monica Coffey of Stayton; his brother Ira Glenn Walls Jr. (Donna) of Stayton; his sisters Deborah Kay Anderson (Gary) of Soap Lake, WA; Iris Fay Hupp-Sargent of Wilsonville, OR; Eva Lorraine Walls-Elliott of Stayton; and Janet Lee Sheehan (Terry) of Salem, OR. Paul will be interred at Lone Oak Cemetery in Stayton beside his beloved parents in the spring of 2016, during a family service. Paul was a fun-loving, generous, and brave person who will be sorely missed by his loved ones, caretakers, and friends.
Arrangements entrusted to Weddle Funeral Services.