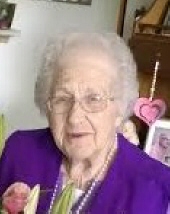 Obituary for Perpetua Pepper M. Shepherd
Perpetua Pepper M. Shepherd

July 24, 1924 May 16, 2016

Salem, Oregon

Perpetua Pepper M. Shepherd, 91, passed away peacefully with family at her side. She was born in Silverton, Oregon to Joseph and Catherine Maurer. Pepper married Robert Shepherd on Dec. 6, 1943, and together they raised three children. They were blessed with 63 years together until Robert passed in 2008. Pepper enjoyed quilting, creating floral arrangements, and being a cub-scout leader and teachers aide. She was a member of St. Thomas Catholic Church in Jefferson until relocating to Salem.

Pepper is survived by her children Robert (Chris) Shepherd Jr., Penny (Wendell) Smith, and Katherine Martell; grandchildren Jeremy Shepherd, Ari Shepherd, Jennifer (Ben) Van Meter, Jesse Shepherd, Amy (Tim) Cowlthorp, and Jayson Martell; and great-granddaughters Jaelyn, Taryn, Ravyn and Emily VanMeter.

Preceding Pepper in death were her parents; brothers Joseph Maurer Jr, Alexander Maurer, and Raymond Maurer; and sisters Amelia Gerlitz and Mildred Hunt.

A rosary will be held on Thurs, May 19, 2016 at 9:30am, followed by a mass at 10:00am, both at St. Josephs Catholic Church in Salem, Oregon. A graveside service at Jefferson City Cemetery will follow. In lieu of flowers, donations in Peppers name may be made to Willamette Valley Hospice.

Arrangements entrusted to Weddle Funeral Services.