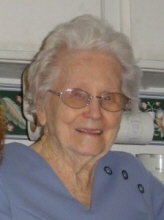 Obituary for Phyllis Hill
Phyllis Hill

June 14, 1912 January 19, 2017

Detroit, Oregon

Phyllis (Rash) Hill, 104, of Detroit, Oregon passed away on January 19, 2017. She was born on June 14, 1912 in Smithfield, Utah to Henry and Elizabeth (Thompson) Rash – one of nine children. She married Gordon Hill on October 23, 1929. Together, they raised three children; Larry, Grady, and Jules. Phyllis was appointed Postmaster of Marion County in 1962, and held the position until her retirement in 1976. Phyllis was a proud member of the Detroit Women's Club and enjoyed sewing and decorating cakes for her friends and family. Phyllis was preceded in death by her parents, siblings, husband, and sons; Grady and Jules. She is survived by her son; Larry (Susie) of Cave Junction, Oregon, daughter-in-law; Shirley of Dallas, Oregon, ten grandchildren and several great and great great grandchildren.
Phyllis will be greatly missed. Per her request, there will be no services.

Arrangements entrusted to Weddle Funeral Services.