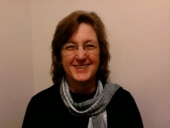 Obituary for RACHEL S. KERR
Rachel S. Kerr 54, passed away early Sunday morning from complications of cancer.

Rachel was born in Compton, California to Richard and Mary Joan Watkins, both of whom preceded her in death.  Rachel grew up in Southern California with her two sisters, Rebecca and Roberta, who were often times the inflictors of a "whoopin."  After a good growth spurt she became the inflictor and her strong will, determination, and ability to overcome began to shine through.  She formed a sisterly, life-long friendship with RheeAnne Frey and the entire Frey family.   Rachel moved to Stayton during high school while she helped her parents expand Sublimity Mobile Village.  When she graduated from Stayton High School, she returned to Southern California and married her high school sweetheart, Randy Sam Kerr who preceded her in death in 1983.  After returning to Stayton, they had two daughters, Dorothy and Darcy.  Rachel had the privilege of being a stay-at-home mom and was very active in their lives both in and outside of school.  She was the band, track, or club "Mom" for a variety of activities and was always there to support every kid as if they were her own, giving each of them a part of her heart and soul as she encouraged their dreams to take flight.  Rachel always held a special place in her heart for her canine companions, many of which were begged for by her children, showing the animals the same love and compassion that she did for so many people.

She was an active member of the community, giving often to the Stayton Community Food Bank and supporting other community programs.

She is survived by her sisters, her daughters; Dorothy Loftin and Darcy Hearn, and her first grandchild, Duncan Hearn.

A celebration of life will take place on Saturday, June 16 at the Star Cinema in Stayton, OR from 12-1pm with a open house potluck to occur from 1:30-3pm at Rachel's house.  In lieu of flowers, please feel free to donate in her honor to:  Stayton Community Food Bank, Willamette Valley Humane Society, or Relay for Life.

Arrangements entrusted to Weddle Funeral Services Stayton, OR.