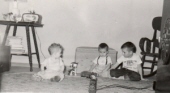 Obituary for RANDY JOEL SHINN
RUSTY,  RANDY  &  RICKY

April 18, 1953 – July 4, 2012

Randy Joel Shinn, 59, passed away at Yuma Regional Medical Center.  He was born in Auburn, Washington to the late Horace Billy Shinn and Pauline Mae Whiting Shinn.  Randy loved life and he lived his to the fullest.  He will be greatly missed by his family and friends. He is survived by his wife of 22 years, Cindy Shinn, two sons; Randy Joel Shinn Jr., and wife Amy; Barry Lee Shinn and fiancée Erika and two grandchildren, Taylor and Chloe Shinn all of Hoschton, Georgia.  He is also survived by step-children, Traci Scott and husband Sam of Lyons, Oregon, Troy Whitney and fiancée Brenda of Springfield, Oregon and William Whitney Jr. and wife Lolly of Lyons, Oregon, grandchildren; Melissa, Jennifer, Matthew, Deseree, Devin, Westin, Lily, Taylor and Logan and great-grandchildren, Caitlyn, Catherin, Jeriah, and Carter.  Memorial  Services will be held at a later date.

Arrangements entrusted to Weddle Funeral Services Stayton, OR.