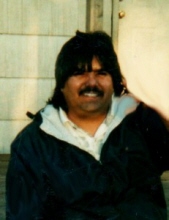 Obituary for RAYMOND RAY ALCARAZ
RAYMOND "RAY" ALCARAZ

Aug. 30, 1961 – Oct. 21, 2012
Aumsville, Oregon Resident

Raymond "Ray" Alcaraz, 51, passed away on Oct. 21st from a traffic accident.   He moved to Oregon from California 23 years ago.  Having worked at the Wilco seed plant and recently for Norpac in Stayton.  He enjoyed building things and was quite the handyman, he also enjoyed landscaping.  He is survived by his father, Miguel Alcaraz of Vista, CA; brothers, Mike and Albert of California; sisters, Yolanda Morales of Alabama, Sylvia Rodriguez  and Rosemary Damon of Mill City; numerous nieces and nephews.

Services are pending.

Arrangements entrusted to Weddle Funeral Services Stayton, OR.