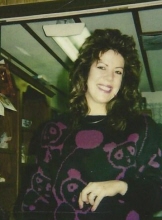 Obituary for REBECCA LYNN KIRKHART
REBECCA LYNN KIRKHART

Dec. 10, 1961 – Sept. 30, 2013
Sublimity, Oregon

Rebecca Lynn Kirkhart passed away peacefully Monday, September 30th, 2013 at her home in Sublimity Oregon from natural causes. She was the daughter of Earnest and Geraldine Kirkhart from Mountainburg ,Arkansas and Taos, New Mexico. Rebecca was born at Good Samaritan Hospital in Portland Oregon. She attended college to obtain her Degree in Business Management, an experience she loved. She worked for Valley Credit and with her family as Corporate Accountant for Empire Trucking and Construction Inc. 1985-1992. Her professionalism will be missed at Zivney Flooring. Recently Becky volunteered at Stayton Food Bank with Edna, Tuesdays.  She is survived by her sister Pamela Kirkhart Zivney, Pamela's' husband Donald, Nieces; Lisa, Joelle, Leah, and Julia Ann Zivney. Nephews; Donny and Jason Zivney and step son Brandon and family; cousins; and  fiancé Hal Palmer.

Becky  had a carefree disposition, loved music and was generous. Her life revolved around her family, education, beloved pets and kind friends, especially Melvin. She was an Advocate for Rescued Great Danes, The Oregon Feral Cat Coalition, and The Oregon Humane Society. Becky was cherished and will be greatly missed. She would not want her loved ones and friends to be sad as she is now at peace with our parents. Rebecca has been laid to rest at Aumsville Cemetery with her parents. At the family's request no memorial will be held. Private interment at Aumsville Cemetery, Aumsville, OR. Contributions on Becky's behalf may be made to your local food bank or above causes. Becky will be remembered for her good nature, kindness, and love of life.

Arrangements entrusted to Weddle Funeral Services Stayton, OR.