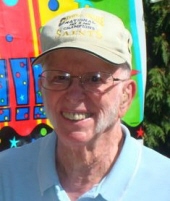 Obituary for ROBERT LEE BOB HOLLEN
September 16, 1928 – December 25, 2013
Sublimity, Oregon

Robert "Bob" Lee Hollen, 85, passed away peacefully early Christmas morning, 2013 in Sublimity, Oregon. He was preceded in death by his older brother Addison Frederick Hollen and older sister Rita Claire Gloor. He was born on September 16, 1928 in Condon, Oregon, the third and youngest child of Burt and Lena (Ochse) Hollen. He graduated from Condon High School and served in the Army in France at the end of World War II. When he returned to the United States, he received a degree in Food Science from Oregon State University.  He began his career in food processing working at a plant near Watsonville, California.  He married Donna Garcia and they raised their three children, Richard Hollen, Kathleese Young and Robert Hollen in Salem where Bob worked for Norpac Foods as a quality control manager. Bob enjoyed fishing, baking bread and was an expert woodworker.  Many lucky family members own furniture or other items he made. 

 After Bob and Donna divorced in 1980, Bob met and married Helen Hoke in 1981 and became step-father to Helens eight children, Michael Hoke, Patrick Hoke, Mary Cline, Margaret White, James Hoke, Carrie Schwaller, John Hoke and Anthony Hoke.  Bob and Helen enjoyed the next 27 years together, travelling, cooking, making candy and taking care of each other.  

 Helen passed away in March of 2008. In September of 2008, Bob welcomed a dachshund puppy he named Truffles into his home. In 2009 Bob and Truffles moved to Sloper House at Marian Estates where Bob enjoyed seeing his friends at mealtimes and walking Truffles around the pond. Bob is survived by his three children, eight step-children, twenty grandchildren, four great-grandchildren, a few cousins, many nieces, nephews and grand-nieces and grand-nephews.

 A Catholic Rosary and memorial celebration of Bobs life will be held at Weddles Funeral Home in Stayton at 6pm on Thursday, January 2, 2013.  A Catholic Mass will be celebrated at 1pm on Friday, January 3, 2013 at Immaculate Conception Church in Stayton.  Burial will take place after the Mass at Saint Mary Catholic Cemetery in Stayton. A reception will take place at 2pm in the Saint Maximillian Kolbe Room at Immaculate Conception Church. In lieu of flowers, the family requests that donations be sent to the Christian Foundation for Children and Aging, a non-profit organization through which Bob and Helen have sponsored a boy in Peru for many years. Bobs family would like to thank Gentiva Hospice and the staff at McKillop Residence at Marian Estates in Sublimity for all of their kindness and gentle care of Bob during the last few months.

Immaculate Conception Catholic Church http://www.immacstayton.org/

Arrangements entrusted to Weddle Funeral Services Stayton, Oregon.