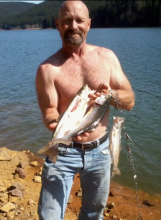 Obituary for ROGER R. LAMBERT
July 11, 1958 July 5, 2013

Roger was born in Salem, Oregon and grew up in the area.  Not one to sit around, Roger was an outdoorsman.  Hunting and fishing were his passion and rock collecting naturally was part of his activities.    His family remembers how he would fill his freezer with fish and game but when a friend in need came to him, he wouldnt hesitate to send them home with food, money or whatever they needed. He got into some trouble and served time in Prison.  He was the type of guy that chose to own his actions and used his experience to guide others from choosing the wrong path.  While in prison he turned his life around and dedicated his heart to Jesus!  His faith blossomed which helped him heal family ties and create new bonds of friendship with others.  Roger died doing what he enjoyed, riding his motorcycle.  He will be missed by his daughter, Tiffany Lambert, brother; Gordon Lambert, friends; Christina Betts, Paul Wolford, Kyle Chapman, Darren Jelden, Mike Junger, Ben, Brick, Bob & Rhonda Kuhn.  Services are pending.

Arrangements entrusted to Weddle Funeral Services Stayton, OR.