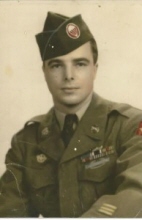 Obituary for RONALD J. MEYER
October 24, 1923 –June 17, 2014
Salem, Oregon

Ronald was born in Le Mars, Iowa to Edward and Anna Meyer. The family settled in the Willamette Valley. Ron served his country with the U.S. Army in the 101st Airborne seeing combat in the European Theater. Ron met and married Violet Kennedy in Silverton on May 7, 1949. They lived and worked on the family farm in Central Howell until 1952 when they moved to Salem. In 1958 they bought a large farm in Turner where Ron pursued his love of raising cattle by day and worked in Lumber Mills by night. In retirement the farm was sold and Ron and Violet moved to Salem. He was a member of the Catholic Church. Ronald was preceded in death by his parents, 2 sisters, a brother, son Scott Meyer, and daughter Sherry Martin. He will be missed by his wife, Violet, children; Dennis Meyer, Rhonda Harstad, both of Salem Angela Becktold of Stayton, Gary Meyer of Marion, 15 grandchildren and numerous great grandchildren and several great great grandchildren. Visitation will be Sunday, June 22 from 9 – 5 and the Funeral Service will be Monday, June 23 at 1:30 p.m. both at Weddle Funeral Chapel. Burial will follow at City View Cemetery with Military Honors.

Arrangements entrusted to Weddle Funeral Services Stayton, Oregon.