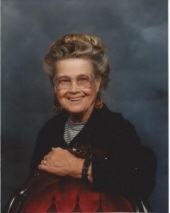 Obituary for RUBY A. FRICHTL
August 6, 1918 – April 17, 2014

Gates Ruby A. Frichtl peacefully fell asleep on April 17, 2014 in the log home she built on the Nystrom homestead where she was born on August. 6, 1918.  She was the youngest of eight children raised by Peter and Anna Nystrom and her much older brothers Richard and Oscar.  In 1938 she married Joseph F. Frichtl and they were happily married for 37 years until his death in 1975. Ruby Frichtl was a multi-talented person with many interests.  She was a prolific china painter and taught this art form for many years.  Her other interests included music, doll making, sewing, flower arranging and cooking for her family.  Ruby especially loved babies and children and leaves behind 33 much loved grand and great grandchildren.    Ruby and Joseph were much admired and loved by their children, Katherine and husband Jeff Clapton; Bruce and Julie Frichtl; Margie Frichtl; Rita and husband, Warren Jordan.   Visitation will be held Wednesday, April 23, 2014 9:00 a.m. to 5:00 p.m. at Weddle Funeral Chapel with a prayer vigil/rosary to follow at  7:15 pm at Immaculate Conception Catholic Church, Stayton.  Funeral Mass will be held Thursday, April 24, 2014 at 10:00 am at St. Catherine of Siena Catholic Church, Mill City.  Rite of Christian Burial will follow at Fairview Cemetery.  Reception to follow at Gates Fire Hall.  Contributions can be made in Memory of Ruby to your charity of choice.

Arrangements entrusted to Weddle Funeral Services Stayton, Oregon.