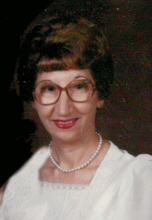 Obituary for RUTH G. WALKER
RUTH G. WALKER

July 11, 1921   †   April 15, 2013
Sublimity, Oregon

Ruth G. Walker passed away on Monday, April 15th at her home in Sublimity, OR. Born on July 11, 1921, in Hamburg, NY, Ruth was the daughter of Peter and Clara Viox. Ruth lived in western New York most of her life. After receiving her Bachelor of Science degree at Buffalo State Teachers College and her Masters degree through Niagara University, New York State University and Syracuse University and she taught junior high school in Kenmore, NY, for 25 years. Ruth married Robert G. Walker on Nov. 22, 1982, in Florida. They lived in Hamburg, NY, and Florida before moving to Keizer, OR, in 1991. Ruth moved to Sublimity, OR, in 1996, after Robert's passing in 1993 to be closer to her sister Marie Loughridge. Ruth enjoyed traveling with her sister to many interesting destinations. Ruth was an active member of St. Boniface Catholic Church and the Marian Estate Auxiliary.  She enjoyed traveling, arts and crafts, reading and writing. Her flower gardens were her pride and joy.

She is survived by her step-children, Robert G. Walker, Jr. Granby, CT; Mary Lou Sanderson Dansville, NY; Paul M. Walker Pleasant Mount, PA; and John B. Walker Kempton, PA, their spouses, children and grandchildren. Her husband, parents, and sister Marie and her husband preceded her in death.

The family would like to extend its deepest appreciation to the caregivers at Signature Hospice and McKillop Residence for their dedicated service and compassion given to Ruth. Their kindness will never be forgotten.

Memorial contributions may be made to St. Boniface Church or Marian Estates Auxiliary.

Services are pending.

Arrangements entrusted to Weddle Funeral Services Stayton, OR.