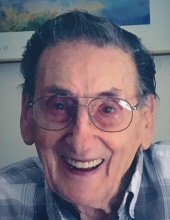 Obituary for Ralph Passarelle
Woodburn- Ralph Passarelle was born on October 12, 1921 in Brooklyn, New York to Concetta Franchese and Giovani Passarella. He attended school through his junior year of high school and then left so he could get a job to help support his family. In 1942, Ralph joined the Coast Guard where he served 3 years and 6 months as a mechanic and achieved the rate of Seaman First Class. When he was discharged the coast guard, he started a career as a carpenter. In 1951, Ralph married the love of his life, Mae Lipari. Together they raised three children, Dolores, John, and Ralph. Ralph's children gave him 8 grandchildren, Tasha, Ralph Jr, Dolly, Brian, Katie, Laura, Megan, and James. He was very proud of all his grandchildren's accomplishments.

Ralph lived most his life in New York before moving to Arizona for 20 years and finally ending up in Oregon for the remainder of his life. He was a member of the Carpenter's Union and genuinely enjoyed being a carpenter. Ralph is an expert pinochle and billiards player. He was a wonderful storyteller who loved politics and going for long walks. Ralph was known as a strong individual who would stand up for what he thought was right. He was devoted to supporting and protecting his family. He was truly a loving and caring husband, father, and friend. He will be missed deeply.

On August 7, 2020 Ralph passed away in Woodburn, Oregon.  He is survived by his loving wife Mae; Children, Dolores, John, and Ralph; 8 grandchildren; 5 great grandchildren and siblings, Jo Passarella and Danny Passarella.

If you would like, in lieu of flowers please make contributions in Ralph's name to Alzheimer's Association.


Cemetery Details
Location
Willamette National Cemetery
11800 Mt Scott Blvd.
Portland, OR 97086