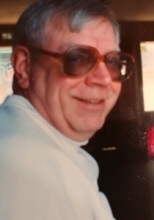 Obituary for Richard Donald Palmer
Richard Donald Palmer

January 5, 1943 April 22, 2017

Salem, Oregon

Richard "Dick" Palmer, 74 of Salem, Oregon passed away at home surrounded by his family on April 22, 2017. Dick was born on January 5, 1943 in Kearney, Nebraska to Ray and Altus Palmer. He was one of six children, all of whom were boys. Dick proudly worked at Wilco for more than 16 years, and truly enjoyed helping others. Dick was a devout fan of John Wayne, collecting and filling an entire room (and then some…) with John Wayne keepsakes and memorabilia. Dick also enjoyed visiting the Oregon coast, fishing, and spending time with his family. Dick was greatly loved and will be dearly missed.  

Dick is preceded in death by his parents; Ray and Altus Palmer, brothers; Charles Palmer, Bill Palmer, and Al Palmer. 

His survivors include his loving wife, Annabelle, children; Cara (Jason) Groshong, David (Darci) Palmer, Gary Palmer, and Jim (Carla) Palmer, step-children; Samuel (Brenda) Klein, Eric (Susan) Klein, and Dorothey (Brock) Olson. Grandchildren; Mindi, Dominic, Heather, Jenny, Kevin, Megan, Alex, Katie, and Gabe. Eleven great-grandchildren, brothers; James (Shirley) Palmer and Weldon Palmer, and many nieces and nephews.

A memorial service will be held on Friday, April 28, 2017 at Weddle Funeral Chapel at 11am. Condolences can be made by visiting weddle-funeral.com. Arrangements entrusted to Weddle Funeral Services.