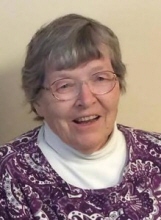 Obituary for Rita Mae Owen
Rita Mae Owen

April 24, 1934 November 16, 2016

Gresham, Oregon

Rita Mae Owen passed into the arms of her Savior on Wednesday, November 16, 2016.  Born Rita Mae Verlanic in Anaconda, Montana, she moved with her sister Harriet Spitler and mother Lucille Verlanic to The Dalles, Oregon while in third grade.  It was in The Dalles that she attended the First Christian Church and met the Owen family.  Richard (Dick) Owen and Rita fell in love and were married at the Christian Church on July 15, 1951, prior to his deployment to Tokyo, Japan to serve in the army.

Rita lived with Pink and Ethel Owen, her new in-laws while Dick was in Japan.  After a year, she took a freighter to Japan to join him for what he thought was his last year in Japan.  They stayed for 47 years; initially while Dick worked for Pacific Stars and Stripes and for the last 19 years as missionaries with World Venture at the Christian Academy in Japan.  Six children, Sheryl Dawson (Gaynor), Geryl Owen (deceased, wife Michelle), Carol Dowsett (Phil), Theresa Robinson (Wade), Paul Owen (Jolette), and John Michael Owen (Yuka) were born and raised in Japan.  Rita loved the Japanese people and the people called to serve in Japan, both military personnel and missionaries. She loved all children, taking in foster children whenever she saw the need. She served in Girl and Boy Scouts, AWANA, and worked with Child Evangelism Fellowship through after school clubs.

Rita constantly served others in her home and outside.  She was active in Friends of the Library in Stayton, Oregon, and was a member of the mission board of Bethel Baptist Church in Aumsville, Oregon.  She and her husband kept missionaries on United States leave in their home.  Rita had a special heart for hospitality and entertained many people in her home.  She had a deep interest in her family and their friends, bringing them into her circle of love.  Even during her battles with lymphatic and liver cancer, she continued to encourage those around her.  She will be sorely missed by many.

She is survived by her husband of 65 years, Dick Owen as well as her sister, Harriet Spitler, and her five children, 20 grandchildren, and 19 great grandchildren.  A memorial service was held on November 19, 2016, at Bethel Baptist Church in Aumsville.  In lieu of flowers, donations are encouraged for World Venture Honduras and Deaf Ministries of Japan.  Additional gifts can be made locally to Union Gospel Mission of Salem, Habitat for Humanity, and Mt. Hood Hospice.

Arrangements entrusted to Weddle Funeral Services.