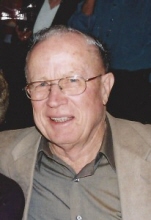 Obituary for Robert Bob Joseph Schumacher
Robert Bob Joseph Schumacher

January 30, 1925 November 19, 2015

Sublimity, Oregon 

SUBLIMITY – Robert was born in and spent his entire life in Sublimity. He was the son of Irvin and Hilda (Starr) Schumacher. He graduated from St. Boniface Grade and High School. He was a farmer his entire life.

He was a lifetime member of St. Boniface Catholic Church in Sublimity. He was heavily involved in the business community throughout his life serving many years on local boards such as Sublimity Insurance Company, Stayton Telephone Company (SCTC), NORPAC, and Santiam Farmers Cooperative (WILCO). He also received several farming awards, most recently the Diamond Pioneer Award from Oregon State University in 2012.

Robert is preceded in death by his wife, Dorothy, on July 28, 2006. Robert is survived by his brothers Richard and Darrel; sisters Betty Minten and Jane Zuber and their spouses; brother-in-law Eldon Silbernagel; children Sharon (Phil) Seeger, David (Sue), Maureen (Kenneth ) Young, Tom (Rita), Gwen (Jim) Etzel, Kevin, and Brian (Stephanie); 24 grandchildren and 40 great-grandchildren.

Viewing will be at Weddle Funeral Chapel on Monday from 2 to 5 p.m. Recitation of the Holy Rosary will be conducted at 7 p.m. on Monday in the St. Boniface Catholic Church in Sublimity. Mass of the Christian Burial will be at 10 a.m. on Tuesday, November 24, also at St. Boniface Church. Burial will follow in the Cemetery of Holy Angels (St. Boniface Cemetery) adjacent to St. Boniface Church. Memorials in his memory may be directed to either the Aspire Program at Regis High School or St. Mary Elementary School.

Arrangements entrusted to Weddle Funeral Services.