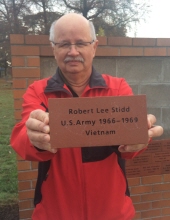 Obituary for Robert "Bob" L. Stidd
Robert L. Stidd was born on November 7, 1944 in Shelton, Washington to William and Wanda (Howard) Stidd. One of six children, Bob was raised in Shelton until he turned 12 years old. His father moved the family to Ketchikan, Alaska upon a job change. Bob would enjoy all what Alaska had to offer with the beauty of the outdoors. 

In his early years, as a youth in Ketchikan,  Bob became a part of the Babe Ruth baseball league.  His love of baseball led him to become an All Star Player.  His team was able to travel to both Montana and British Columbia for competitions and championship games. This fulfilled his love of travel as well.

He graduated from Ketchikan High School in 1963. Over the summers, between taking classes at the University of Alaska, he would work at Ketchikan Pulp and Alaska State Ferry. 

Bob enlisted in the Alaska Army National Guard serving three years and then was recruited into active duty due to the Vietnam War. Prior to his deployment to Vietnam, Bob's sister Jean asked a co-worker to become her brothers pen pal as he served over seas. He and Sharon Ann Frey would write daily letters, sharing their life experiences and encouraging one another. Shari even would go as far as sending him a cake on his birthday all the way to Vietnam (that arrived in perfect condition!). They would eventually meet in person 14 months later. 

The day that Bob came off the plane to meet Shari in person, his first thought was "I'm going to marry her" and on December 28, 1968 that came true. A year later in 1969, Bob would be honorably discharged. They would move back to Ketchikan, where Bob would resume his job duties with Ketchikan Pulp, eventually moving to Oregon in 1972. 

While in college, Bob learned how to do metal castings.  This skill enabled him to obtain a longtime career in manufacturing many products in a wide range of industries over the next 35 years, until retiring in 2009. 

Outside of work, Bob enjoyed stamp collecting, woodworking and growing a vegetable garden. He loved the outdoors and shared that love with his children by taking them camping or taking them for a drive. Bob also used his manufacturing and casting skills to create golf clubs, owning Mid Valley Golf for a short period of time. 

But most of all, Bob was a man of God and placed his faith in Christ. Bob loved the Lord with all his heart and led his life by placing trust in Him. That relationship he had with God, gave him great peace throughout the rest of his life. 

On March 29, 2021, Bob passed away in Salem, Oregon and was welcomed into the loving arms of his Lord and Savior.  

He is survived by his wife of 53 years, Sharon Stidd (Frey); children, Douglas (Dawn) Stidd, Janine (Brant) Hoskins, Sarah (David) Hofmann, Kara (Matthew) Buechner; grandchildren, McKenzie, Jacob, Kaitlyn, Zach, Natalie, Garrett and McKenna; siblings Bill Stidd, Jean Fader, Jerry Stidd, Jack Stidd and Jill Giles in addition to numerous nieces, nephews, extended family members and friends. 

In lieu of flowers the family suggests contributions be made in his name to:
Compassion International
12290 Voyager Pkwy 
Colorado Springs, CO 80921

A service with full military honors will be held on Wednesday, April 21, 2021 at 1pm at Emmanuel Bible Church. Private urn placement at Willamette National Cemetery in Portland, Oregon.


Previous Events
Service
Emmanuel Bible Church
8512 Sunnyview Rd NE
Salem, Oregon 97305