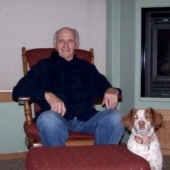 Obituary for Robert Bob Warren Rogers
Robert Bob Warren Rogers

August 3, 1921 January 1, 2017

Lebanon, Oregon

Robert Bob Warren Rogers, 95, died Sunday, January 1st, 2017 at the Oregon Veteran's Home in Lebanon, Oregon. He is survived by his daughter Susan Williamson, son-in-law Stan Williamson, 6 grandchildren, 10 great grandchildren, extended family and friends. Bob was preceded in death by his wife Carol Rogers; daughter, Christine Thornbrue; Father, Leon Rogers; mother, Millie Rogers; and sister, Eva Bretthauer.

Bob was born to Leon and Millie Rogers on August 3rd, 1921 in Duluth, Minnesota. He graduated from High School and had some college before joining the Army Air Force during World War II. He married Carol Terway in April 1951 and moved to Portland Oregon to work with his father at Portland Rug. Bob and Carol had two daughters, Christine and Susan. They moved to Lincoln City in 1969, where Bob started his own Servicemaster franchise. He worked hard and had a successful business until retiring in 1984. He enjoyed fishing, bowling, watching sports, and collecting rocks, coins and stamps. After his daughter, Chris, passed away in 1994, Bob gave his life to Jesus and ensured he would see her again someday. In that same year, Bob and Carol moved to a house on the river in Otis where Bob and many of his friends would fish and he and Carol loved feeding the ducks that came up to their back yard. They had wonderful neighbors who often visited each other during their morning coffee.   In 1996, Carol died in Bobs loving arms. He continued to reside, have coffee with neighbors, fish and feed the ducks, in Otis for 5 more years until moving in with Susans family in Jefferson. During this time, he enjoyed working on his coin and stamp collections, spending time with his family, attending his grand children's school and sporting events, fishing and watching sports. Until he was in his late 80s he drove to Lincoln city weekly to visit his friends there. Bob faithfully attended Jefferson Baptist church until 2013 when he moved to an Assisted Living Home in Lebanon. There he made new friends and was loved by the residents and staff. In 2016, he relocated to the brand new Oregon Veteran's Home, also in Lebanon, where he received outstanding care. Bob knew how to love well. He was incredibly sweet and kind; he made everyone feel special. Bob leaves behind many on this earth who love and miss him dearly. However, we look forward to the day when we will see him in glory, where he is experiencing joy beyond measure.

Memorial Service with Military Honors will take place on Saturday, February 4, 2017 at 12:00 p.m. at Jefferson Baptist Church followed by a potluck.

Arrangements entrusted to Weddle Funeral Services.