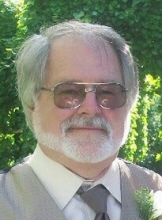 Obituary for Ronald Ron Bell
Ronald Ron Bell

June 5, 1947 June 12, 2016

Gates, Oregon

Ronald V Bell, age 69, of Gates OR, passed away peacefully at home on the morning of June 12, 2016. He was born on June 5, 1947 in Ely, Nevada to WV and Norma Bell. He moved to the Salem area when he was only 2 where he continued to live for the remainder of his life. He graduated from North Salem High School in the class of 1965. He married his wife Jo (Whittaker) on July 13, 1992 in Reno, Nevada.

He is survived by his wife, Jo and 5 children: Richie (wife Cheryl) of Anchorage, AK, Randy (wife Krista) of Olympia, WA, Ronda Latta (husband Eden) of Anchorage, AK, Emily Comstock (husband Rod) of Keizer, OR, Breyonna Caldwell (husband Dustin) of Jefferson, OR, as well as 19 grandchildren, 6 great grandchildren and sister Vicki Steiner (husband Dave) of Salem, OR.

He worked for the Oregon State Legislature at the State Capitol for 33 years, where he was purchasing agent and property manager.

Ron loved Oregon and explored it extensively every moment he could. He had a special fondness for the beach and mountains, where he enjoyed camping and riding his ATV with family and friends.

He was preceded in death by his parents, WV and Norma Bell and granddaughter, Lucy Bell Latta.

An open house in memory of Ron will be held on July 31, from 1 – 4 pm at the Gates Fire Hall, 101 Sorbin Street, Gates.

Memorial contributions can be made in memory of Ron (and Lucy Bell Latta) to The Ronald McDonald House Charities of Western Washington and Alaska, at www.rmhcseattle.org or Willamette Valley Hospice @ www.wvh.org/donate/

Arrangements entrusted to Weddle Funeral Services.