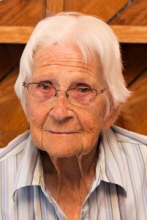 Obituary for Ruby M. Boswell
Ruby Merlene Boswell

July 9, 1920 November 28, 2017

Salem, Oregon

Ruby was 97 years young when she left this world on Nov 28, and was greeted at heaven's gate by the Lord and husband. She was born in Liberal Kansas to Glenn and Hattie Pennington and she was 4th of 5 siblings. The family moved to Oregon when she was a teenager settling in the Victor Point area, where she graduated from Silverton High School. In 1941 she met Kenneth Boswell and they were married in September prior to him leaving for war. She joined him in Panama where they lived until the end of the war. They returned to Oregon and lived in logging camps in Central Oregon, as Kenneth as a logger. They settled in Sisters, and then moved to Aumsville. In 1956 Dorothy was born, 1958 Patricia came along. In 1959 they all moved to Sublimity and in 1961 Roger was born. Ruby was a hard worker her entire life. She had seen the struggles growing up and worked hard to make life better for her family. She was a great homemaker, cook, baker, canning, flower gardens which she loved, large vegetable gardens, raising all their own meat and processing it. She was a gifted seamstress making clothes for the family and later in life made may quilts. She loved to hunt, fish, camp, and spending time with family and friends. She was active in the community being the President of the PTA at Sublimity Grade School for many years and the Den Leader to her daughters Girl Scouts Troop. Ruby lived a full and wonderful life and lived and remained in her home until the last 6 weeks of her life when she had to leave. She is preceded in death by her parents Glenn and Hattie Pennington, husband Kenneth of 53 years, 1 sister, 2 brothers, 1 Granddaughter. She is survived by brother; Gene Pennington of Lebanon, Children; Dorothy (Jary) Johnson Salem, Patricia (Dan) Bartosz of Turner, Roger (Cecilia) Boswell of Salem, 9 Grandchildren, and 13 Great Grandchildren. The family would personally like to thank Serenity Hospice and Four Seasons Memory Care for all the wonderful love and care that was provided to Mom during her last few weeks.

Their devotion was exceptional. In lieu of flowers please donate to Serenity Hospice or the Salem Friends of Felines.

A funeral service will be held on Saturday, December 9, 2017 at 11am at Weddle Funeral Chapel.

Arrangements entrusted to Weddle Funeral Services.