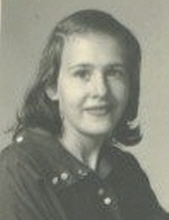 Obituary for Ruby May Drury
Ruby May Drury was born on May 5, 1941 in McMinnville, Tennessee to Harve Blaylock and Daisy Coots. 

She met her husband Jasper Drury while still quite young and they were married on October 27, 1958 in Lubbock, Texas.  They would soon welcome 3 children; James, Ronald and Debbie.  The family would move to Santee, California until finally laying down roots in Sweet Home, Oregon in 1995.  While in Oregon Ruby would work for the Oregon State University Seed Lab in Corvallis.  She would do this until her health caused her to retire.

It was very important to her that her children pursued their education because it was something that she was unable to do when she was younger. Ruby would set an example for them and her grandchildren and would go back to school and successfully obtain her GED at the age of 60.

Ruby was often strong willed and to put her family first.  In she spare time she enjoyed quilting and crocheting but her passion was genealogy.  She was determined to be the library of family history and her pursuit to find out the roots of the family tree provided her with much enjoyment. 

On August 28, 2019 Ruby passed away in Albany, Oregon.  She was preceded in death by her husband Jasper; parents, Harve and Daisy; brothers, Paul, JC, Nelson, William and David; and sister Fay.  She is survived by her children, James, Ronald, and Debbie; Grandchildren, John, Zachary, Emma, and Josh; great-grandchildren James, Mitchell, Luke and Jasper; siblings, Walter, Mary, and Susie.


Events