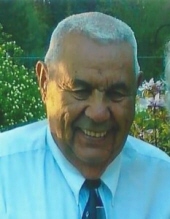 Obituary for Russel G. Reid
Russel G. Reid

June 28, 1929 July 2, 2016

Mill City, Oregon

Russel Gale Reid was born in Heppner, Oregon to Clarence and Viola Reid. He grew up in Monument, Oregon. Russel served as Seabee in the Navy in the Philippines and Korea at the end of the Korean War. He moved back to Oregon after the service, and settled in the Santiam Canyon. Russel and Ruby Faye were married for 50 years until her passing in 1998. They were blessed with four children. Russel and Merryle Baker shared 16 years of marriage until his death. At the time they were married, he had an 8 foot greenhouse, and somehow it grew to 40 feet, and eventually connected to another greenhouse that was 30 feet. He had a green thumb and then some. Hundreds of flowers, hundreds of starts, vegetables, and always tomatoes. Plus raspberries, blackberries, blueberries and strawberries. He was like an ever-ready battery, always watering, planting, starting, and pulling weeds. BUT HE HAD ANOTHER LOVE. Neither sleet nor hail nor any other thing could keep him away from his Friday Pinochle game. He enjoyed the group that shared that love of the game. We are all so thankful to have been a part of his life.

Russel was a proud member of the American Legion for over 50 years and was Commander of Post 159 for a time. He was also a member of the Veterans of Foreign Wars and the Eagles of Mill City.

Russel is survived by his wife Merryle; his children Teri Kay Price of Vernonia, Cynthia Ann Westby of Albany, Loretta Lee Zavola of Keizer, and Dale Eugene Reid of Keizer; 8 Grandchildren; 8 Great-Grandchildren; and a brother Robert Clarence Reid (91) of Irrigon, Oregon.

Celebration of life to be held on Saturday, July 23, 2016 at 2pm at the Santiam Chapel in Lyons, Oregon. Interment to take place in Willamette National Cemetery on Monday, August 1, 2016 at 3:00pm.