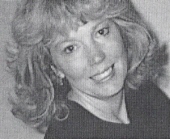 Obituary for SHANNON D. GOOCH
June 17, 1955 June 9, 2014

Shannon Dee Gooch was born in Ashland, Oregon to Keith and Joyce Smith on June 17, 1955. She graduated Silverton High School, then graduated from Western Oregon University in 1988 with a Bachelor's degree in Elementary Education. Shannon married Ritchie Gooch on December 28, 1982 in Seattle, Washington and they made their home in Stayton. Together they have two daughters, Emily born in 1989 and Kelsey born in 1990. Shannon was a homemaker and mother. Her focus in life was her children and family.  She was an active member of the Church of Jesus Christ of Latter-Day Saints, Stayton Ward.

Shannon is survived by husband, Ritchie Gooch MD; daughters, Emily (Kurt) Juengling and Kelsey (Mason) Wooley; brothers, Kevin Smith, T.J. Smith, and Edrie Smith. Shannon was preceded in death by parents and brothers, Mark and Fane.

A Funeral Service will be held Monday, June 16, 2014 at 11:00 AM at the Church of Jesus Christ of Latter-Day Saints Stayton Ward. Vault interment will be in Lone Oak Cemetery, Stayton.

Arrangements entrusted to Weddle Funeral Services Stayton, Oregon.