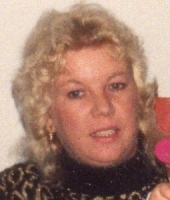 Obituary for SHIRLEY ANN ALLISON
October 22, 1949 October 10, 2014

Resided in Salem, Oregon

On October 10, 2014, Shirley Ann Allison, 64, of Salem, loving mother, grandmother, and sister, passed away after a long and courageous battle with cancer. Born October 22, 1949 to Leon and Gladys Cooper in Millerton, Oklahoma, her family eventually settled in the Scio area. After graduating from Scio High School, she then moved to the Salem area where she resided until her death. Her life centered around taking care of others as she was a Home Health Care provider for the last 30 years. The caring did not stop there. She was always more concerned about the comfort of her family. Even through her battle with cancer, she always put others first. One of her favorite past times was going to baseball games of her grandkids and chatting with her many friends on Facebook. She was also a big fan of bluegrass music. She is survived by her sons; Wade (Monica) Olson, and Jody (Nikol) Allison; daughter Shawna Porter; brothers, John (Sherry) Cooper, and Jim (Kathy) Cooper; sisters, Susie Hollingsworth, Linnie (Lee) Rich, and Darlene (Wally) Wuest; grandchildren, Ashley Porter, Jacqueline Olson, Austin Olson, Cody Allison, and Braden Allison; and great-grandchildren, Ryder Johnston and Blake Johnston. Funeral Service to be  held on Tuesday, October 14, 2014 at Weddle Funeral Chapel at 1:30 PM, with interment following at Miller Cemetery in Scio.

Arrangements entrusted to Weddle Funeral Services Stayton, OR.