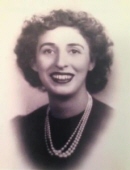 Obituary for SHIRLEY HELEN BEAL ROBERTS
September 13, 1923 to August 26, 2014

Sublimity, Oregon

Shirley Helen Beal Roberts recently passed away after nearly two years residing at Marian Estates in Sublimity, Oregon. Shirley was an elegant, refined woman with a love of beauty and the arts. Always by her side was her husband of sixty three years, J. Franklin Roberts. Shirley never lost her east-coast sensibilities, or her thick Bostonian accent, which served her wry sense of humor well.

Shirley arrived on the west coast in 1951 where she began her hew life with Franklin in Portland, Oregon. Soon, she was raising three children; Joenine, Diane and Christopher.

As a young mother, the love of learning and participation in the arts filled Shirley's home as the Roberts family followed Franklin's teaching and academic career to many different places. With many artistic endeavors in their upbringing, Shirley and Franklin's children grew to be artists in their own right.

The high point of Shirley's life was traveling with Franklin in Europe, escorted by their son Christopher, a pianist, composer and music executive. Shirley encouraged her family in their interest and talents, while developing her own career as a well-known piano teacher in Medford, Oregon. She is remembered by her fellow teachers and former students for her high standards and dedication to classical music. She held district leadership in the Oregon Music Teachers Association and was chairwoman for The Oregon Bach Festival for many seasons.

Shirley and Franklin moved in 2000 to Salem, Oregon to be near their daughter, Diane. They enjoyed a simple and thoughtful life, full of studying poetry, art history, and learning languages. Franklin took up Thai Chi and Shirley studied Yoga. Most importantly, they reinvented themselves in oil painting.

A past interest in the visual arts turned into a passion. Together with their daughter, Diane, they created a huge collection of beautiful paintings which graced the walls of their home as well as some Salem businesses.

Shirley's family is eternally grateful to the Marian Estates staff and Gentiva Hospice for their support and for the loving care given to Shirley and to Franklin Roberts, who passed away in 2013. She is survived by her daughters, Diane and Joenine and son, Christopher, as well as 6 grandchildren.

Arrangements entrusted to Weddle Funeral Services Stayton, Oregon.