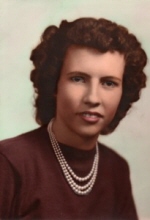 Obituary for SHIRLEY JANE JAMES
Shirley Jane James, 77, passed away on Saturday, November 3, 2012. She
was the daughter of Gail and Wilda Phillips of Jordan. Her ancestors were some
of the first pioneers to the Jordan area. Shirley began her education in a
one room school house in Jordan and graduated from Stayton Union High School.
She married Harold Tonkin in 1951, they later divorced. Shirley married Oliver
James in 1965 and built their home in Scio.

Shirley is survived by her husband, Oliver; sons, Todd Tonkin and Jamey Tonkin(wife,
Nedin)both of Scio and Robert Tonkin of Bend; daughter, Lorrie Tharp (husband,
Grimm) of Scio. She also adored her 5 Grandchildren and 3 Great Grandchildren.
She is preceeded in death by her parents and brother, Kenneth Phillips.

A memorial service will held November 17, 2012 at the Scio I.O.O.F. Hall beginning
at 1 pm.

Memorial contributions in her name may be sent to Sterling Savings Bank or Scio
Historical Society.