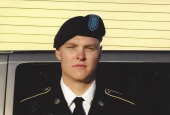 Obituary for SPC NICKOLAS NOODLE WELCH
March 16, 1987 August 6, 2013

Our beautiful, loving, heroic son, finished his battle here on earth and has ventured on to a new journey.  Words can never describe this young man and the person he is.  He is loved by so many people and missed beyond the imaginable.  To anyone that had the privilege to  know him, their lives are forever touched.  Heaven gained, we lost, but his memories will last forever.  It doesnt end here, we will all meet again one day.  Nicks accomplishments in his short life are many.  His loyalty to all he knew is incomparable. We love you Nicky!!!  Nick attended school in Mill City, Oregon and graduated from Santiam High School in 2005. He attended College of the Siskiyous  graduating in 2009 with an Associate Degree in Business Management.  He received many academic and athletic awards throughout his years of schooling.  Some of these include a Certificate of Mastery, Scholar Athlete Award from both high school and college.  He lettered in Football, Basketball and Track.  He took great pride in wearing his #80 at both High School and College. Nick was very humble about his achievements and was a  Silent Tough, enduring broken bones while playing to help the team and never complained.  While working toward a Bachelors degree in Accounting, Nick joined the U.S. Army in 2010.  He served his country well  as a Forward Observer, with additional training as a Joint Forces Operator, 4th battalion, 3rd Infantry Division Regiment # 3-15, Charlie Company. Nick had reenlisted and after his deployment in Afghanistan he was looking forward to serving at Ft. Lewis, WA.  His valor and sacrifice is recognized through awards of a Bronze Star, Purple Heart, Army Commendation Medal, Good Conduct Medal, NATO Medal, Combat Action Badge,  and many more.  He is survived by his Parents, Barry and Lorria Welch, Brother, Zackary Welch, Uncles; John, Paul, Brian, Scott, Aunts; Pam, Heather, Amy, Cousins; Ronni, Talyssa, Bre, Dylan, Wesley, Gunner, and Mark Jr., Grandparents; Debra and Randy Rose, James Hunt and Mazel Garrett and last but not least, his best buddy and lap dog yellow lab, Apolo.  You will be forever in our hearts Till we meet again!   Visitation will be Saturday August 17, 2013 from 12:00 to 5:00 P.M.at Weddle Funeral Services, 1777 N. 3rd Avenue Stayton, OR   Graveside Service with Full Military Honors will be Sunday August 18, 2013 at 12:30 P.M. at Willamette National Cemetery. A Private Celebration of Life will be held on August 25, 2012 at Weddle Funeral Chapel.  Memorials: Soldier & Family Assistance Center 9059 Joint Base  Lewis McChord Washington 98433 and www.beadonor.org .  Weddle Funeral Services is honored to serve the family.

Arrangements entrusted to Weddle Funeral Services Stayton, OR.