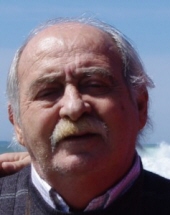 Obituary for STEFAN O. PETRE
Salem, Oregon

Stefan O. Petre 68, of Salem Oregon passed away September 02, 2012. He was born in Bucarest, Romania on the 24th of October, 1943.  The son of Constantin and Alexandrina Petre.  Stefan grew up in Bucarest and served in the armed forces in Romania. .

Stefan worked as a on board mechanic on 747 passenger planes.  He married Cati Manea in 1965, and had two sons Gabriel and Daniel. In 1978 his wife/mother of his children, Cati passwed away. Shortly after in 1980 Stefan defected to The United States.

He lived in Manhattan, New York and owned and operated the Royal Motors Company in Queens.  He was married to Patricia Tzivelos, they later divorced.  He moved to Florida and married Mariana Rusz, she preceded him in death in 2007.  He then retired and moved to Arizona to be close to his sister.  He moved to Salem to live with his son and family in January of this year.  Stefan will be missed dearly. He is survived by his sons,  Gabriel (Corina) Petre of New Jersey, Daniel (Teri) Petre of Salem; step-sons, Harry Tzivelos and Adrian Rusz both of New York; sister, Carmen Maddock of Arizona; 5 grandchildren; and 3 great grandchildren.

Arrangements entrusted to Weddle Funeral Services Stayton, OR.