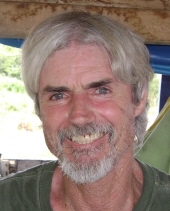 Obituary for STEVEN LODI KENT GLASS
Steven "Lodi" Kent Glass, born June 14, 1949, in Oklahoma City, OK, to Lois Elaine (Allman) Gewin and Joe Allen Gewin, passed on peacefully November 27th 2013 at his home in Lacomb, Oregon.

Steve was the second child having a 2 year-old sister, Linda, and was followed 2 years later by younger sister Laura Jane. For the first 5 years of his life the family resided next door to his paternal grandparents. In 1953 his father re-enlisted in the US Navy and the family moved to Philadelphia, PA for a short time and ultimately, Newport, RI.  While residing in Rhode Island his parents divorced and his mother was remarried to Paul Glass, US Navy, who eventually adopted all three of Elaines children (resulting in the name change) as well as adding 2 more brothers, Paul Jr. "Skip" and Joel.  As with most military families they resided in several places including Green Cove Springs, FL, Long Beach, CA, Westminster, CA and Milwaukee, WI, where Steve graduated from high school.

Steve was a precocious, typical, all-American boy, who was athletic, well-liked and full of fun.  He loved nothing more than to tease, which he did not outgrow as proven by his family nickname Uncle Pester.  After graduating from high school, he dabbled seriously in surfing, from learning the basic moves to incorporating the bleached blonde hair.  Then Steve joined the Marine Corps to the chagrin of dad Paul, who was a Navy Recruiter, and also father Joe being ex-Navy.

Steve shared the following story in his own words:  "Between 1967 and 1971 I served in the USMC Air Wing.  In 1970-1971 I was deployed to the Republic of South Vietnam for duty.  My job was as a member of the Air Wing SATS Division (Short Airfield for Tactical Support).  This job entailed constructing small metal airfields with catapult and arresting gear for catching and landing aircraft in remote areas.  Arresting gears were also set up on major Vietnamese airports for the recovery of battle damaged aircraft.  I was stationed at the DaNang airport where there were 2 sets of arresting gears: one at the very beginning of the runway, the other in the middle, which was my primarily job.  The DaNang airport was one of the hubs for Agent Orange distribution during my tour of duty.   Many daily flights occurred of Agent Orange aircraft during non-monsoon season.  As these aircraft returned to base, mist and residue from the drop would be flowing off of the plane.  Being at the beginning of the runway, we were continuously showered by this residue mist, sometimes quite heavily. This scenario went on for the 12 months that I was in Vietnam."

The Veterans Administration awarded him 100% disability in October 2012 when he was recognized as suffering the effects of Agent Orange.  His symptoms for those 40 plus years were subtle but apparent until the last year of his life when he sought conventional treatment.

Upon his discharge from the service he met a Native American who taught him about "rocks" and nicknamed him "Lodi" due to his connection with that potential Mother Lode.  That began a life transforming path where he was always involved with nature, both physically and spiritually.  He began working in the woods, eventually becoming a technical forester focusing on reforestation, as well as developing his skills as a miner, owning mines and teaching everyone he knew about the beauty of the mineral kingdom.  He was well known for lighting a spark inside others, particularly in appreciation of the rock world.  He worked for US Forest Service (Sweet Home and Lowell), Forestry Inspections, Sunrise Reforestation and Blue Mountain Forestry.  These years in forestry afforded him the luxury of covering the incredible terrain in Oregon, Washington, N. California, Idaho, and Montana, much of it on foot.  He knew the Pacific Northwest wilderness like an old friend.  One of his favorite parts of the forest work, besides always looking at the ground for something shiny, was the time he spent in the woods with co-workers, and specifically his amigos with which he felt a special kinship.  He felt strongly that his years of living and working in the Pacific Northwest's boreal rainforest gave him the "forest energy" inside, so that he could easily hold that healing power while at home.

Marrying Beverly "Star" Hayes in 1973, and having two children, Stephen "Steve" and Rebecca "Becky", they settled in the Eugene area where he attended LCC and UO studying Anthropology and Geology.  In 1978 they began Crystal Light Mining, the oldest gem and mineral booth (#594) at the Oregon Country Fair, with mining buddy Michael Strickling, where they have dazzled the crowds for years with the wonders of the mineral kingdom.

Lodi's specialty was carving stones, a step beyond basic lapidary.  He was inspired by his father Joe's Native American art, including kachina and antler carvings.  Joe and his second wife, Shirley "Nana", a Cherokee basket weaver, attended many festivals, such as Red Earth, etc., where they sold their art, giving Lodi an appreciation of his rich artistic and native heritage as a member of The Northern Cherokee Nation of The Old Louisiana Territory (enrollment #9322).

Lodi and Jaiaen Beck met in 1989. In 2000, they married in a remote village in Zimbabwe in a traditional Shona tribal wedding, where she had been adopted and co-founded a community development project through an Oregon non-profit, Ancient Ways. The marriage brought him into the Magaya family as a son-in-law in the most profound sense, as he found the ancient traditions deeply moving.  There, he was referred to as the "legendary white mukwasha", meaning son-in-law, since only Shona people would normally carry that title.  He traveled to Zimbabwe 3 times as he helped Jaiaen with her village work, and shared his mining expertise and love of rock with the family.  He had several Magaya nephews who were fascinated in learning from him.

Lodi went 4 times to Peru taking family and friends to both the Amazon and Andes, where he assisted as a guide and fell in love with the history of the Inca people. He was often found sharing in ceremonies with the medicine people of Peru, both there at the top of the apus, or the depths of the rainforest, and also here in Lacomb, when Ancient Ways would sponsor visits to the mid-Valley.  He felt a profound connection to Peru: the mountains, the jungle, and the culture.

Being a father to Jaiaen's son, Jivan Beck-Pare, and also to Richart "Rich" Neumann, as well as Becky and Stephen, Lodi shared his love of rocks and adventure with all of his children, friends and family.  He had a colorful life exploring a variety of esoteric teachings, personal growth workshops, and shamanism. He was a self-made scholar of Incan history and traditions. He appreciated music venues ranging from the Beach Boys, live Grateful Dead concerts and listening to "Dumi" Maraire at the WOW Hall, to Sarah McLaughlin and the consciousness lyrics of U2 as he hung out at home in the foothills of the Cascades.  He really enjoyed experimenting in the kitchen with new ideas, watching cooking shows, and specializing in barbeque both here, and in Zimbabwe where he would cook for his Shona family.  He loved the desert, his favorite place being Eagle Rock, outside of Prineville, Oregon, where his ashes will be scattered.

He is preceded in death by his parents. He is survived by his wife Jaiaen Beck of Lebanon, his children Stephen Joseph (Michelle) Glass of Portland, Rebecca Riversong Pickens of Eugene, Jivanta Andrew Beck-Pare of Lebanon, Richart Ernst Neumann of Springfield, step-mother Shirley Joan Gewin of Oklahoma City, his siblings Linda (Jim) Kelly of Gold Beach, Laura Jane (Stephen) Munchas of Cottage Grove, Joel (Debby) Glass of Cottage Grove, Paul "Skip" (Ariana) Glass of San Diego, the mother of Stephen and Rebecca, Beverly "Star" Glass of Eugene, and 3 grandchildren, Sophie Mai-Star Glass, Isaiah Joshua Pickens, and Aiden Matthew Pickens.

5 days after his passing, the family dog Skye, became suddenly ill and unexpectedly died. Although a "velcro" dog to his wife Jaiaen, Lodi's love for this dog was enormous.  His daughter Becky said that she had seen him with his many dogs over the years, but he was particularly fond of Skye, always demonstrating affection.  Lodi had said that when he was a very small boy he wanted to have a dog farm.  Maybe Skye and he can travel the next part of the journey together and help each other out in the next chapter.

A Life Celebration potluck will be held December 14th, 2013 from 11-3 at the ZCBJ Hall in Scio, Oregon (38704 N Main St).  Feel free to join us in remembering this extraordinary fellow who was disguised as a regular guy. In recognition of his life and friendship, please make tax-deductible donations to Ancient Ways, at PO Box 346 Scio, OR 97374 or www.ancient-ways.org.

Arrangements entrusted to Weddle Funeral Services Stayton, OR.