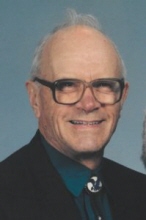 Obituary for Stanley Stan Kilbourn
Stan, 96, died in a foster home in Salem, Oregon on June 28, 2017. He was born in Berthold, North Dakota on a dairy farm to Fay and Lillie Kilbourn, first moving to California to pick oranges and crops, they then headed to Oregon with a trailer full of household items to settle near Aumsville in 1952. Stan worked for Shoemaker Farms, tending to all duties around the farm. Stan was later hired by a local farmer to take the position of Shop Foreman for BJ Ford Tractor Co. which he held until the company was sold in 1988. In 1967, Stan decided to take square dancing lessons at the VFW Hall in Salem where he met Janice, later marrying her on June 21, 1969 in Elgin, Oregon. Together, they raised two children; Roger and Marvin. Stan thoroughly enjoyed music, and loved playing the fiddle. He joined the Oregon Old Time Fiddlers in the area, and played for several other groups as well. He especially loved playing his fiddle for worship services.

Stan is survived by his loving wife, Janice of Aumsville, children; Roger (Gail) Kilbourn of LaGrande and Marvin (Lynette) Kilbourn of Easton, MD and grandchildren; Joshua, Jacob, Matthew, Rachael, Katherine, and John. Stan was preceded in death by his parents, sister June (Joiner) Forrester, and many cousins.

Private interment will take place in Belcrest Memorial Cemetery in Salem. A memorial service will be held on Friday, July 7, 2017 at 1PM at Stayton Christian Church (189 Washington St.) In lieu of flowers, contributions can be made in Stan's name to the Stayton Christian Church.

Arrangements entrusted to Weddle Funeral Services.