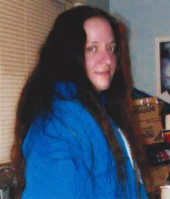 Obituary for TERESA M. TOEPFER
June 23, 1978 – July 24, 2013

Teresa was born on June 23, 1978 in Lebanon, Oregon to Allen Chapman and Jacquelyn Pollock. She grew up in Silverton and moved to Stayton as a teenager. Teresa married Kerry Toepfer on April 24, 2004 in Scio. She worked at Hollywood Video in Stayton and at several Mills in the canyon. Teresa adored her children, step children, nieces and nephews. Teresa enjoyed sharing life on Facebook as well as playing games, antiques books, old Bibles,old pictures such as charcoal drawings of people in the 1800's and tin types. She was generous and caring to all, the brightest light one could know, always making people laugh and smile. Teresa will be greatly missed by her husband, Kerry; mother, Jacquelyn Pollock, children: Tynan and Hope Killinger, Hanna, Ezra, and Aram Toepfer, nieces and nephews: Ayla Chapman, Shania Wilson, Albie and Amie Toepfer, and, Jason and Nykia Chapman, Mykka Hubby and Andrew Chapman, sister: Krista Baker; brother, Jason Chapman.  She was preceded in death by her sister, Andrea Chapman and nephew Austin Wilson.

Graveside services will be held at Lone Oak Cemetery in Stayton on Wednesday, July 31, 2013 at 1:00 P.M. Arrangements entrusted to Weddle Funeral Services. Online condolences at Weddle-Funeral.com. and on her Facebook page.

Arrangements entrusted to Weddle Funeral Services Stayton, OR.