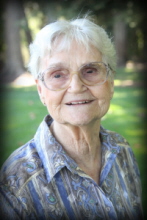 Obituary for THEDA TRAW NYDEGGER
May 14, 1918 – December 1, 2014
Stayton, Oregon

Theda Traw Nydegger was born in Maynard, Arkansas on May 14, 1918 to Claude and Bessie Evans. Theda was preceded in death by her parents, 3 sisters, 2 brothers, and husbands Leo Traw and Verne Nydegger. She is survived by sister Wanda (Brad) Norman and brother William Evans; sons Dewayne (Penny) Traw of Albany, OR and James Traw of Stayton, OR; daughter Gloria (Larry "Ted") Nydegger of Lyons, OR; grandchildren Tracy and Alex Traw, Valleri (Kevin) Peters, Marsha Strader, Jamie (Ron) Braun, Lee (Laura) Traw, Kimberly (Chris) Fredricks, Tammy (Mark) McKim; and great-grandchildren Morgan, Sydney and Colby Fredricks, Brianna, Keely, and Logan Braun, Quinn and Natalie McKim, JC Traw, Ian, Emily, and Sam Peters, Cole Knox, and Dalton Strader.

Theda enjoyed gardening and taking walks in her younger years. Theda and Leo raised their 3 children on communities of Crescent and Gilchrist, Oregon. She most enjoyed spending time with her family and friends.

No services will be held at this time.

Arrangements entrusted to Weddle Funeral Services Stayton, OR.