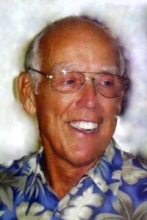 Obituary for THEODORE TED G. NORMAN
Theodore George Norman

June 1, 1935 February 28, 2014

Theodore George Norman, Ted, passed away February 28, 2014, after a brief battle with brain cancer. Ted was born June 1, 1935, in Peoria, Ill., to Howard and Emma Norman. He was the fifth of six sons. He earned an economics degree from Bradley University and then served three years in the Army. In 1962 he married Evelyn Norman and relocated to the West Coast. They settled in Salem, Oregon, where they raised their 4 daughters. Ted had a successful career as a wholesale salesman, eventually launching his own business selling gift and souvenir items throughout the Northwest. His passion in life, however, was the outdoors. He climbed many mountains and logged hundreds of miles hiking, snowshoeing, and cross-country skiing. His favorite places included the Jefferson Wilderness Area, South Sister near Bend, and the Oregon Coast. It was his love of nature that brought Gerda Keolker into his life when the two met cross-country skiing. They married in 1995 and enjoyed 18 wonderful years on the trails, the dance floor, and walking the beaches of Hawaii.

Ted is preceded in death by his parents and brothers. He is survived by his wife, Gerda; daughters Suzanne Kailey, Lisa Wilson, Angela Redmon, and Jennifer Mannetti; stepchildren Thomas Keolker and Stephanie DeVault, and their spouses. He also leaves behind grandchildren Joey, Katy, and Emily Walters; Alyssa and Kiana Mannetti; Cooper, Andrew, and Jeffrey Redmon; Kristiane, Jack, and Ben Keolker; and James and Luke DeVault.

Services will be held Friday, March 7th, at 11 am at Queen of Peace Catholic Church in Salem. A luncheon will follow.In lieu of flowers, the family suggests donating to the orphanage in central Mexico founded by his brother, Fr. Clifford Norman: Hand of Help Program, Society of Our Lady of the Most Holy Trinity, P.O. Box 1406, Robstown, Texas, 78380; or to Tokarski Hospice Home, where Ted was lovingly cared for during his final days: Tokarski Home c/o Willamette Valley Hospice, 1015 3rd St NW, Salem, Oregon 97304.

Arrangements entrusted to Weddle Funeral Services Stayton, OR.