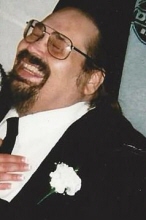 Obituary for THOMAS "TOM" THOMPSON
THOMAS  "TOM"  THOMPSON

May 23, 1951   †   Nov. 14, 2013

Thomas "Tom" Thompson passed away on Thursday, November 14th at his home in Scio.Tom was born on May 23, 1951 in California.  He was 62 yrs. of age.  The son of Dewey and Mary Thompson. Tom moved to Scio, Oregon over 30 years ago and  was married to Karen Radke on Sept. 14, 1996 at Roaring River, Oregon. She preceded him in death on May 9, 2005. Tom  loved working on his Harley Davidson motorcycle.  He was in a motorcycle accident on his 30th birthday and has been disabled ever since. He also enjoyed woodworking and leather work and spending time with his grandchildren.  He is survived by his son, Brandon Thompson of Stayton; daughter, Jamie (Jon) Driver of Scio; siblings, Eddie, Billy, Delores and Florence; grandchildren, Jordan, Jared, Jayden, Brandon Jr, David and Lindsey.  He was preceded in death by his parents, wife, brother, Jimmy and sister, Mary.   Funeral service will be held on Tuesday, November 19, 2013 at 1:00 pm at Weddle Funeral Chapel, Stayton.  Interment will be private at Miller Cemetery in Scio. The family asks if anyone wishes to make a contributions to Weddle Funeral Services to help with funeral expenses it would be appreciated.

Arrangements entrusted to Weddle Funeral Services Stayton, Oregon.