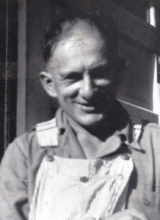 Obituary for TONY BEITEL
TONY  BEITEL

Tony Beitel of Stayton passed away on Thursday, January 31, 2013.  He was 103 years of age.  The son of Alois and Cecelia Beitel.  Tony was born in Salem, Oregon on May 9, 1909.  He farmed sheep and was a Champion sheep shearer, having a record for shearing a sheep in 2 ½ minutes.  He also had sheared 7000 sheep in a season.  Tony served in the US Army during WWII, having served in the Battle of the Bulge.  He enjoyed the time when he was given the duty to oversee officers for a short period while serving in California.  He was married to Mildred Rauscher on May 23, 1950 in Eureka, CA and they made their home in Stayton where he continued to farm only in agriculture.  He enjoyed watching the migration of the barn swallows and the deer that would wander around the farm.  He was a member of St. Boniface Catholic Church and enjoyed reading the bible, sometimes 3 times a day.  He was a member of the Sublimity Community Archives and has donated war memorabilia from WWII.  He enjoyed hunting and deep sea fishing and was a very good swimmer. Tony is survived by his daughter, Becky Lovrien of Wilsonville and many friends. Memorials may be made to the Union Gospel Mission.

Prayer Vigil will be held on Thursday, February 7th at 7:00 pm at Weddle Funeral Chapel.   Funeral Mass will be held on Friday, February 8th at 11:00 am at St. Boniface Catholic Church in Sublimity followed by Rite of Committal with military honors at St. Boniface Catholic Cemetery, Sublimity.

Arrangements entrusted to Weddle Funeral Services Stayton, OR.