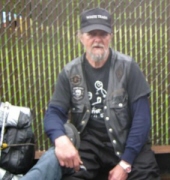 Obituary for TONY SUMPTER
Aug. 18, 1950 – Sept. 29, 2012

UNION  Tony Sumpter, 62, of Union, died at the result of a motorcycle accident on Sat. Sept. 29th in Wallowa, Oregon.  Tony was a Vietnam Vet and was a member of the Gypsy Jokers Motorcycle Club.

Private service will be held.

Arrangements entrusted to Weddle Funeral Services Stayton, OR.