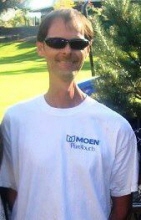 Obituary for TROY J. ALEXANDER
January 16, 1967 April 19, 2013
Salem, Oregon

Troy Joseph Alexander passed away peacefully at home in Salem, Oregon on April 19, 2013 at the age of 46 after a long, tough as nails, battle with cancer.  Preceding him in death was his Sister, Kerry McDonald, Mother, Patricia Herman, and recently, his Son, Jeremy Alexander. Troy is survived by his Daughter, Jennifer Alexander , Father Lynn Alexander, Siblings; Kelly Hause (Ken), Rick Kemery (Michaela), and Kristy Bradley, Also numerous Nieces, Nephews, and their children. He leaves behind his devoted companion , his dog Buddy, and many, many friends and coworkers, including his dear friend Ann Davis.