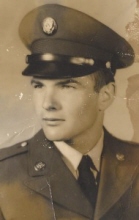 Obituary for Terry D. Ruggles
Terry D. Ruggles

Sept. 23, 1939 – Jan. 2, 2013

Terry Ruggles was born in Stayton, Oregon on Sept. 23, 1939 to Henry and Dorothy Ruggles.  He passed away on Wed. Jan. 2nd in Salem.  He was 73 yrs. old.  Terry was born and raised in Marion and was married to Carol Hatch. They moved to Brooks in 1981.  He worked in underground cable construction for Copenhagen Utilities in Milwaukie before he retired.  He served in the US Army and was a member of the Albany American Legion.  Carol preceded him in death on Nov. 16, 2007.  He enjoyed watching Perry Mason, hunting, fishing, camping and gardening.

Terry is survived by his children; Terrie Ostrim of Salem, Rod Ruggles of Texas, Terri Ruggles of Brooks, Henry Ruggles of Brooks, Keith Ruggles of Brooks, Patricia Duvall of Brooks, Clint Ruggles of Keizer; brother, Steven Ruggles of Astoria; sisters, Sandra Coleman of Bend, Cathy Anderson of Klamath Falls, Patricia Ruggles-Gunn of Salem, Linda Thompson of Marion; 4 grandchildren and 4 great-grandchildren.

Visitation will be Monday, Jan. 7th from 9:00 am – 11:00 am followed by Funeral Services  at 11:00 both at Weddle Funeral Services, Stayton.  Military honors will follow at Lone Oak Cemetery, Stayton, OR.

Arrangements entrusted to Weddle Funeral Services Stayton, OR.