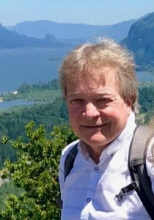 Obituary for Terry Reed Holley
Terry Reed Holley

June 24, 1955 March 12, 2018

A Celebration of life will be held for Terry Reed Holley who passed away on March 12, 2018 at the age of 62. Terry was born on June 24, 1955 in Vernal, Utah to Russ and Lola (Harris) Holley. After receiving a Bachelor of Science degree in Physical Therapy at the University of Utah, he completed a second Bachelor of Science degree in Wilderness Science. Ultimately, Terry earned his Master's Degree in Health Science at the University of Indianapolis.

He began a life-long career as a skilled physical therapist helping those who needed his guidance and expertise to overcome their injuries. For the last 11 years, Terry was the Director of Physical Therapy at Marion Estates in Sublimity where he garnered much respect from the residents and his coworkers. In order to help his memory challenged patients, he enthusiastically introduced himself as "Terry Terrific", which became synonymous with his remarkable reputation. He was also known to be a practical jokester and precocious prankster much to the amusement and occasional consternation of his coworkers. It was not uncommon for Terry to go above and beyond treating his patients if he knew it would improve their life or recovery. Terry was a gifted and compassionate physical therapist, truly caring for his patients and their families, developing long lasting relationships with so many.

Besides work, Terry's best days were those spent outdoors exploring nature. He especially loved river rafting and kayaking, becoming a well-respected river guide during summer breaks in college. Terry traveled all over in search of extreme white water challenges. Treading the Snake River left him with the most vivid stories of survival. Terry's spirit thrived whenever he was navigating a new waterway, paddle in hand, Zen in soggy sneakers.

In 1988, Terry married Vickianne Rogers (Vlossak) and they were blessed with the birth of their daughter Makenzie Faye Holley on St. Patrick's Day 1995. Terry was an attentive and doting father to his daughter Makenzie, the light of his life. Makenzie's love of horses brought her and her Dad close as they traveled together for Makenzie's many equestrian events and competitions. Terry supported his daughter through rain or shine, mucking stalls, loading the horse trailer and driving long distance to many events. His proudest moments were watching Makenzie's many accomplishments and to succeed at what she was most passionate about.

Terry was also a devoted partner to Deb Scott. They shared the wonder of hiking and exploring the outdoors; traveling along the coast and mountain ranges of Oregon. In addition, they also shared their love of music and dancing in the moonlight. They treasured spending time together with their grown children celebrating every aspect of their amazing young lives. Deb embraced Terry's magnanimous personality, quick wit and hilarious sense of humor. Terry shared his genuine adoring love with Deb as their love story was unfolding and they were in the process of building their dreams together.

Terry is survived by his daughter, Makenzie Holley; fiancée Debra Scott and her family; sister, Cheryl (Sherman) Smith; brothers, Glenn (Mary) Holley and Brent Holley. Terry also leaves behind many nieces and nephews in addition to many extended family members and friends.

We have all been blessed by Terry's brilliant mind and beautiful soul. In his loving memory, the family suggests contributions be made to Brain and Behavior Research Foundation at (https://www.bbrfoundation.org).

Terry will be greatly missed by the many people he touched over his lifetime. In his honor, please consider wearing purple to his Celebration of Life, which will be held on Sunday, April 15th 2018 at 2:00pm in Maurice's Bistro located on the Marion Estates Campus: 390 SE Church St. Sublimity, OR 97385. Please leave condolences and messages to the family at www.weddle-funeral.com who is entrusted with arrangements.