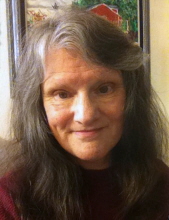 Obituary for Terrye Rubens Sheets
Terry Rubens-Sheets was born on January 18, 1950 in Portland, Oregon to Sanford Rubens and Jacqueline Tucker. 

Terrye attended the Kansas City Art Institute with a focus on painting and sculpture and was a passionate artist throughout her life. She was a proud member of many organizations; some of these were the Silver Sneakers Exercise Class, Jubilate! Womens' Choir of Corvallis, Vistas and Vineyards Plein Air Painters of Oregon and working as a woodcarver at the Albany Historic Carousel.  She felt most at home when surrounded by Oregon's nature. 

On July 13, 2019 Terry Rubens-Sheets passed away in Lebanon, Oregon.  She is survived by her sister Sandi Winn; daughters Nicole Kirby Cunningham, Adrienne Kirby Egger and Jennifer Simmons; and grandchildren William Cunningham; Lukas & Alexander Maier, Xavier Egger; Matthew, Keegan & Gryffon Simmons. 

Terrye's family would like to extend their gratitude to Susy Carter and the Silver Sneaker Exercise Class for making it possible for Marzipan to sleep on Terrye's lap for eternity, to the Jubilate! Choir for filling her sickbed rooms with the voices of angels, and to Nancy and Del Carter of Butterfly Meadows for giving her a final home and garden in which she could pass in peace. Rest now, Mom, and may God's love and peace be with you forevermore.