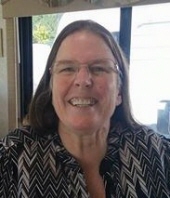 Obituary for Theresa D. Klopfenstein
Theresa D. Klopfenstein

September 11, 1957 October 2, 2015

Scio, Oregon

Theresa Klopfenstein, of Scio, Oregon, passed away on Oct. 2, 2015 in Salem, Oregon, at the age of 58. She was born Theresa Diane DeHart Sept. 11, 1957, in Puyallup, Washington, to Buster and LaFern DeHart.

Theresa graduated from Silverton High School and attended OSU and a veterinary trade school in Seattle. Some of her first jobs were as a waitress at Two Grandmas in Silverton and a salesperson at Sears. She began working for the State of Oregon in 1987. She has worked in the Department of Motor Vehicles, Fairview Training Center, Oregon State Police, Oregon Military Department and Joint Force Headquarters Family Programs. She was well known for her positive, upbeat attitude and her ability to make her coworkers laugh. Her professionalism and expertise garnered her a Meritorious Service Medal and an Exceptional Service Medal for her support of the 2003 wildfire season. Theresa was most proud of her "Certified Payroll Professional" certification that she earned in 2008. Theresa was proud of the fact that her father-in-law Howard Klopfenstien had retired from the military department in 1987 and that she could carry on the family name there.

Her greatest joy was to spend quality time with her family. She also was very fond of her horses, and being a part of horse drill teams and taking road trips. Theresa was part of the Cascade Sweethearts, Rodeo Bandits, American Thunder and was an active member of the 40 Something Cowgirls, Oregon Equestrian Trails, and the Back Country Horseman. Theresa was the northwest distributor of Pounds, a horse supplement and was very active in all of the local horse events. In addition to the horses she loved to ride the motorcycle with Duane and the Albany Oregon motorcycle group.

Theresa was preceded in death by her father Buster, survivors include her husband, Duane, whom she married Aug. 26, 1978 in Salem; mother, LaFern DeHart; daughter, Rene' Breedlove; brothers and sisters, Tommy and David DeHart, Melanie Land and Ellen Archer; grandchildren, Courtney and Grant.

Funeral service for Theresa will be held at St. Timothy's Episcopal Church, 3295 Ladd Ave NE in Salem on October 17, 2015, at 2:00. Internment and reception following service.

Memorial contributions can be made to the JFHQ Family Programs or the National Guard scholarship program.

Arrangements entrusted to Weddle Funeral Services.